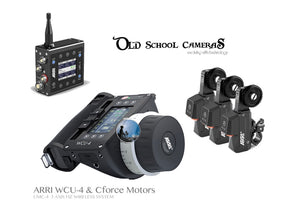 ARRI WCU-4  + ARRI UMC-4 + C-Force Mini Motors!!! 
(Optimal Performance from ARRI  
INCLUDES: (READ DETAILS BELLOW) 
ARRI WCU-4 Hand Unit
ARRI UMC-4 Control Module
ARRI C-Force Mini Motors (3) 
ARRI WCU-4 Plate
(2) ARRI MISC. Cables 
(2) ARRI MISC. Cables  
(2) LI-ION IKAN Batts (NPF550)
ARRI AC Power Supply
DUAL BATT Charger 
ARRI Pre-Marked 8" Focus Ring 
ARRI Pre-Marked 12" Focus Ring 
ARRI Pre-Marked 14" Focus Ring 
ARRI Pre-Marked 20" Focus Ring 
ARRI Pre-Marked 3'6" Focus Ring 
ARRI Marking Focus Ring (Blank) 
IMAGES ARE FOR ADVERTISEMENT PURPOSES ONLY! (Contents & Images vary from actual ARRI WCU-4 sold in the listing) Please inquire for details from our rental department. 
The ARRI WCU-4 Wireless Compact Unit is a 3-axis handheld controller featuring an integrated lens display. Control camera functions, focus, iris, and/or zoom from a distance, such as when shooting handheld or using a stabilizer, gimbal or crane. The WCU-4 is compatible with the ARRI Alexa 35, Mini LF, ARRI ALEXA Mini, ALEXA Plus, and Studio cameras, and with ARRI UMC-4, SMC-1, EMC-1, and AMC-1 motor controllers. Camera functions are controllable for ARRI ALEXA Mini, Plus and Studio, and ARRI AMIRA when used with the UMC-4 motor controller.
Vibrating markers and a backlit display make it easy to use the WCU-4 in low light levels. Multiple 3/8"-16, 1/4"-20, and M4 mounting points enable you to attach the controller to a rig when convenient. This WCU-4 set includes the control unit, a hand strap, lanyard, and one marking disk. Use a non-permanent marker to add focus marks to the disk.
Use the versatile ARRI UMC-4 LDS Universal Motor Controller to remotely control focus, iris, and/or zoom, and to record lens metadata for post and VFX use. The UMC-4 Controller can govern up to three lens motors, and is compatible with WCU-4, SXU-1, Master Grip, and ARRI zoom controls. This controller is compatible with any ARRI or third-party pro camera, and with CLM-3/4/5 lens motors.
The downloadable SUP 2.0 update for the UMC-4 adds several key functions like wireless lens-file transfer, the ability to set and display your gear motor teeth-count (for correct lens data), support for the cmotion cfinder III, and improved motor characteristics. AMIRA/ALEXA Mini–specific updates include full playback control, selection of user setups, and a PLAY/ERASE status display. An updated LDA (lens data archive) is detailed below in the Features section.
This standard version of the UMC-4 includes two serial ports; optional modules are available separately for linking the UMC-4 to Canon and Fuji focus/zoom controls. The UMC-4's internal timecode clock can be jam-synced, or it can be used to output LTC timecode. The included SD card can be used for recording lens data and timecode, and for updating the controller's firmware. The UMC-4 motor controller features a 2.4" LCD display, a water-resistant design, and a durable, outdoor antenna.
⭐️ALSO AVAIL FROM OSC RENTAL DEPT!
ARRI WCU-4 = 350/ day,      735/wk,      2,1k/ monthly (UMC4 not included)
choosing a selection results in a full page refresh
press the space key then arrow keys to make a selection