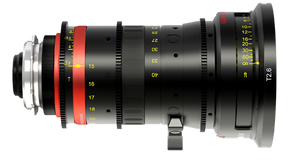 ANGENIEUX OPTIMO 15-40MM
T2.6 PL Zoom (Duclos Cinema Ready)
INCLUDED:
1 x Angenieux 15-40mm - T2.6
2 x 15mm Rods 14" Steel Bevelled
1 x Duclos Eccentric sm
1 x Duclos Zoom Motor Brkt
1 x Duclos 2pc Lens Support Foot 
1 x Zoom Stick Medium
1 x Zoom Stick Small
1 x ARRI LS-10 15mm Lens Support Brkt
1 x LW Lens Support Brkt
1 x Master Case w/ Lightweight
LENS SPECS:
ZOOM RATIO 2.7X
HOMOGENOUS COLOR OPTIMO
FOCAL LENGTH 15-40mm
APERTURE (f/2.4) T2.6
CLOSE FOCUS 3'1"
INTERNAL FOCUS Yes
IMAGE COVERAGE S35 31.4mm 
WEIGHT (APPROX.) 4.2 lbs 
LENGTH 186mm
FRONT DIAMETER 114mm
MAIN FEATURES: 
Superb image quality from T2.8 open aperture Compact and very light (1.9 kg / 4.3lbs) Identical center of gravity on all Optimo lightweight zoom lenses enable quick lens interchange
Perfect homogeneity of color, contrast and resolution. Low distortion No ramping, minimal breathing, very fast for 2.7x zoom ratios Internal focus, internal zoom, constant lens volume
Precise and ergonomic focus ring with scale rotation of 320 degrees & over 50 focus marks.
Interchangeable focus scale ring from feet to meters Adapted to extreme production environments (back focus temperature compensation system from -20°C to +45°C)
Compatible with Optimo 1.4x and 2x extenders 63-168mm T4 (with 1.4x extender) 90-240mm T5.6 (with 2x extender)
Image coverage: S35+ (Ø 33.34 mm), expands to Ø 35 mm when used with Optimo extenders (more info in DOWNLOAD section) Available in PL mount. Easily interchangeable to Panavision, Canon EF mounts Compatible with ASU servo unit (integrated motors for FTZ remote control through industry standard control systems)
Also available: Preston Microforce Zoom Controller, Teradek RT Motion, ARRI WCU-4, ARRI ALEXA MINI LF, SONY VENICE, RED V-RAPTOR
OTHER LENSES:
Angenieux Optimo 15-40 $450/ Day
Angenieux Optimo 28-76 $450/ Day
Angenieux Optimo 45-120 $500/ Day
Angenieux Optimo 25-250 $500/ Day
Anamorphic 2x Rear Lens Adapter $200/ Day
Century 2x Extender II PL #150/ Day
Preston Microforce & Heden Motor $125/ Day
Arri ZMU-1 Microforce & C-Force Mtr $150/ Day
Arri WCU-4 Wireless Focus C-Force $350/ Day
Arri SXU-1 Wireless Single Ch C-Force $250/ Day
Teradek RT Motion CTL.3 Wireless Deluxe $350/ Day
Spider Grip set w/ Extn Handles & Microforce Adapter $50/ Day
OPTIMO LIGHTWEIGHT LENSES: AGILITY & QUALITY BALANCED AT AN UNPRECEDENTED LEVEL
Optimo lightweight hand-held zoom lenses – including the 15-40mm, 28-76mm, and 45-120mm – offers a superb balance between quality and agility. They are the lightest and the most compact series of cine zoom lenses in the industry and are perfectly suited for shootings requiring modern, lightweight and compact digital cameras and Steadicam work.
 Shipped Worldwide!! 🌎 760-309-2302 ☎️ 
BUILD A PACKAGE! SAVE 30% ARRI ALEXA 35, ALEXA MINI, MINI LF, SONY VENICE 2, RED V-RAPTOR 8K, HELIUM, KOMODO, ARRI 416, ARRI 235, ARRI 435 XTREME, ARRI LT, ARRI ST, ÉCLAIR NPR, ARRI SR3, ARRI SR2 HS, BOLEX, DIGITAL BOLEX, VINTAGE BROADCAST, ALL FORMATS
⭐️ ALSO AVAIL FROM OSC RENTAL DEPT!) 
 RENTALS@OLDSCHOOLCAMERAS.COM (LONG-TERM DISCOUNT) 
450/day,      1k/wk,      2,4k/monthly
choosing a selection results in a full page refresh
press the space key then arrow keys to make a selection